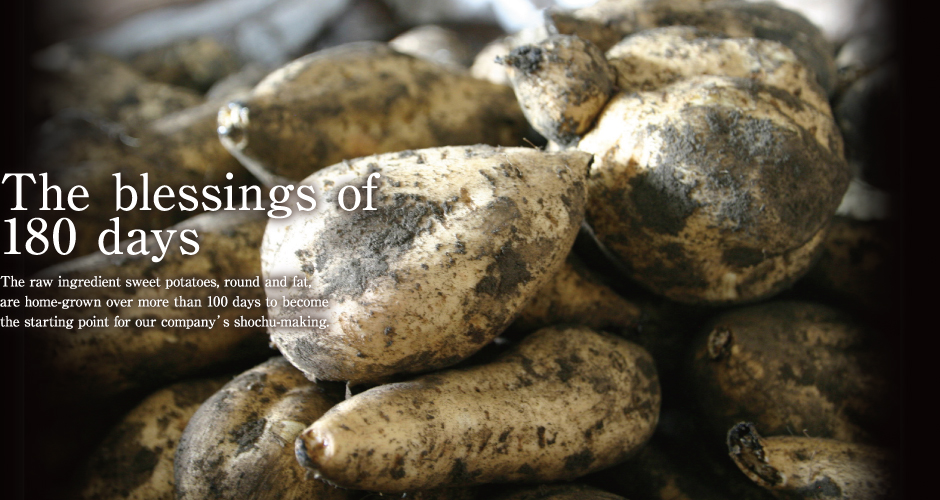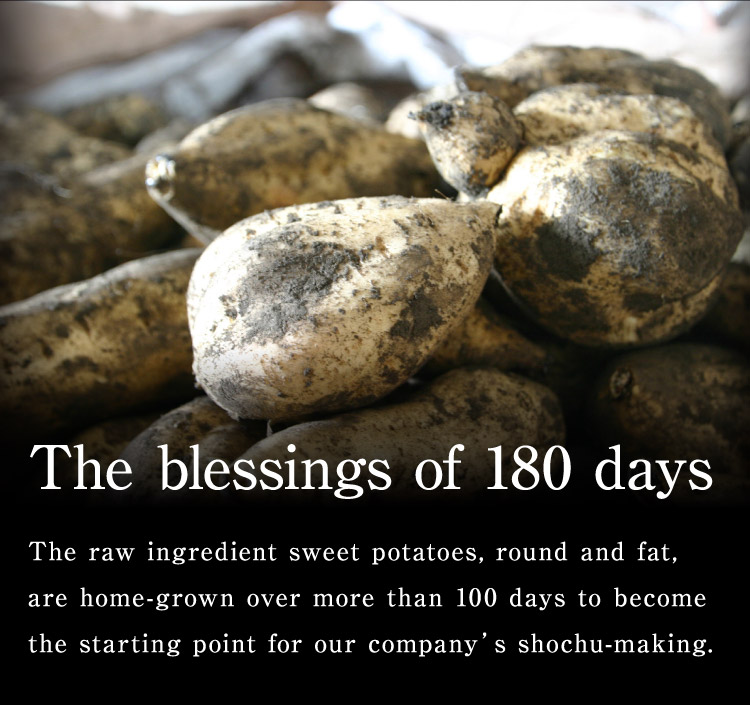 Asahi Mannen is made with the
raw ingredient of home-grown sweet potatoes
cultivated by hand to grow big.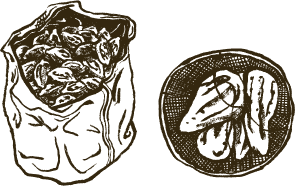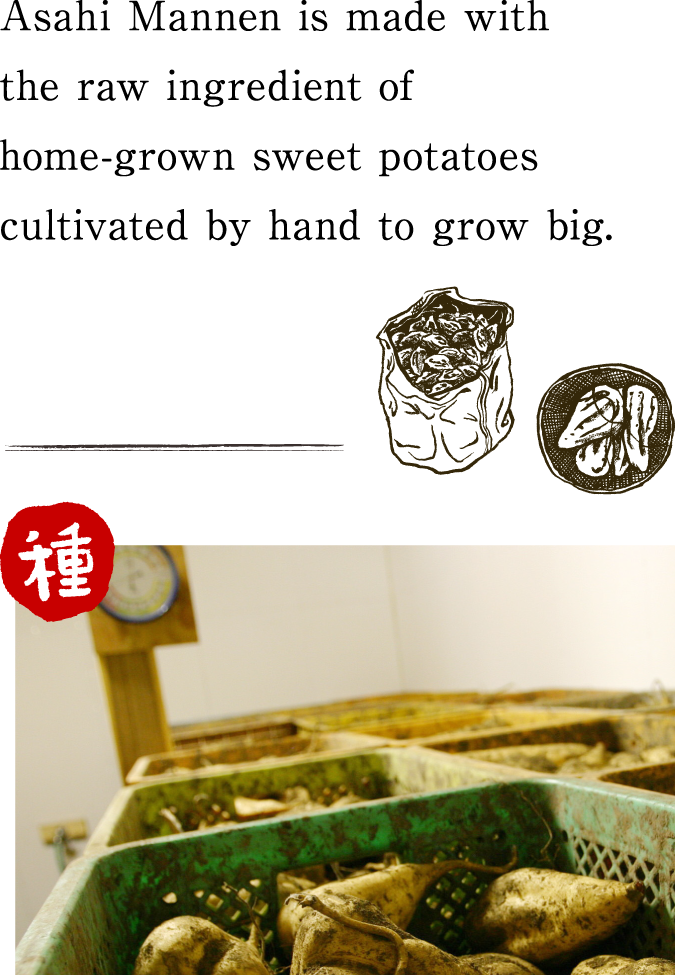 種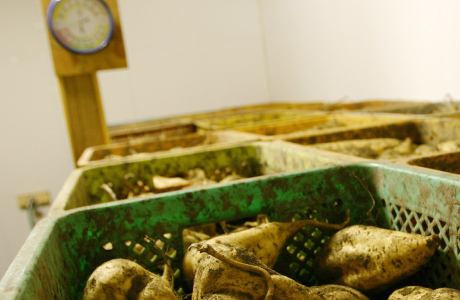 The process of making Mannen shochu begins with raising seedlings from seed potatoes that are stored in our storehouse.
The seed potatoes used to cultivate the raw ingredient sweet potatoes are also carefully managed at our distillery. We carefully select suitable sweet potatoes from each year's harvest and store them in our totally temperature- and humidity-controlled storehouse.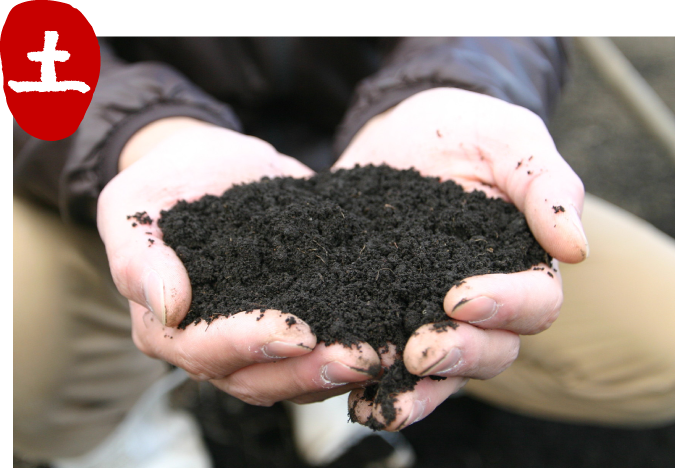 土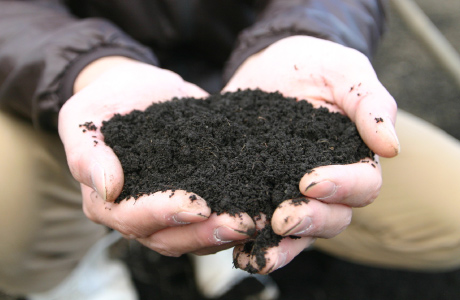 Sweet potatoes can grow even on waste ground.
However, we are scrupulous about keeping our soil in good condition.
As they can grow even in poor soil conditions, sweet potatoes were appreciated as hardy plants in times gone by. However, at Watanabe Distillery, we cultivate our potatoes in rich, fertile soil. Even although they can grow on waste ground, sufficient and moderate nourishment is indispensable.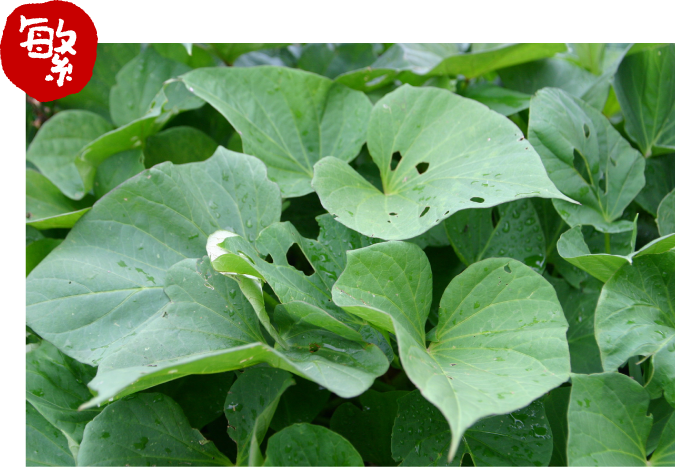 繁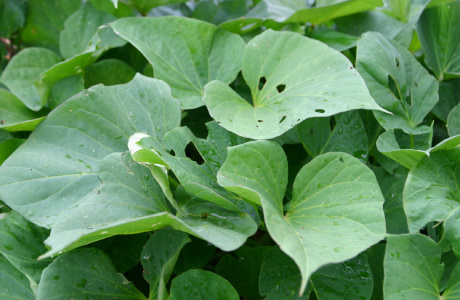 We limit our use of agrochemicals to the minimum.
The leaves are often full of holes from insects eating them.
The more the insects eat the leaves, the more this has the effect of making the sweet potatoes grow fatter. However, at this distillery, we use almost no agrochemicals from the point of view of safety and peace of mind. You can see the insect-eaten leaves on our cultivated land.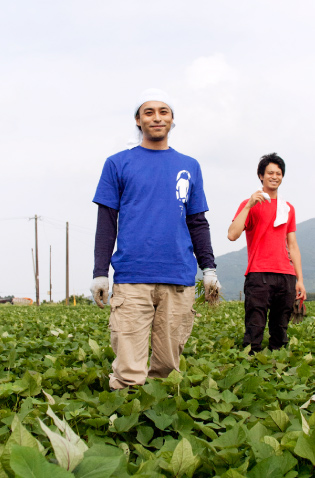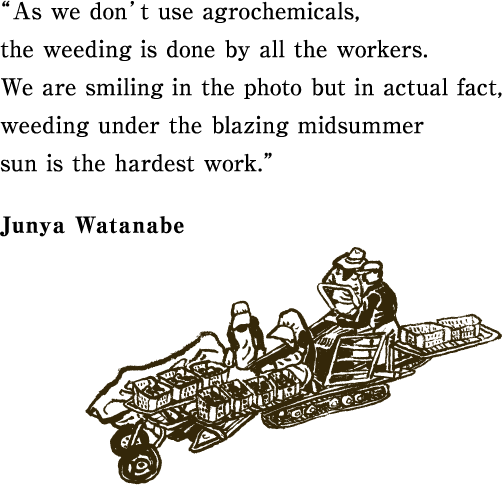 穫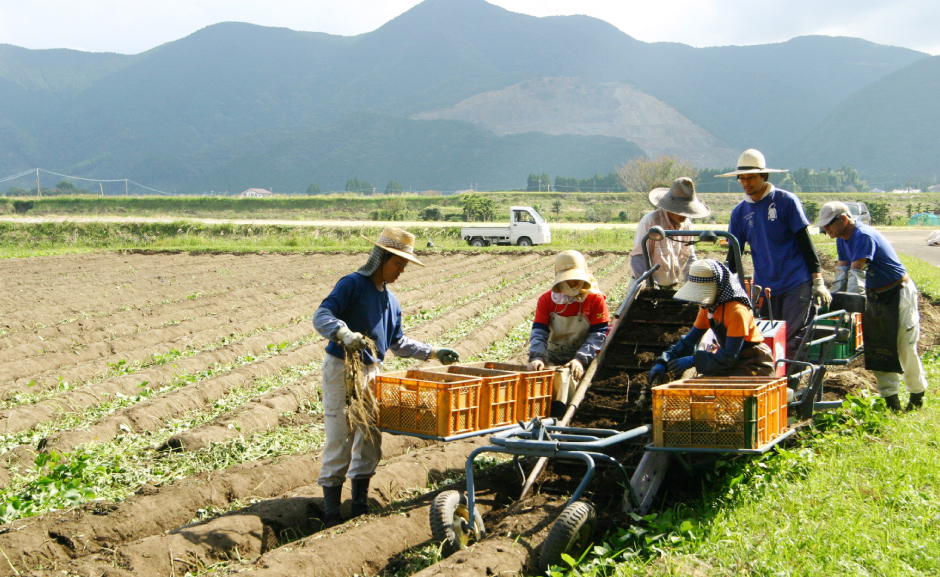 180 days from planting.Harvesting is also done by the workers.
Our greatest pleasure is to see the faces of the sweet potatoes.
Harvest for sweet potatoes is usually around 100 days after planting. However, we add a further 80 days and cultivate our sweet potatoes for a total of around 180 days. The reason for this is so that we can promote even further growth and harvest our raw ingredient sweet potatoes, round and fat.
芋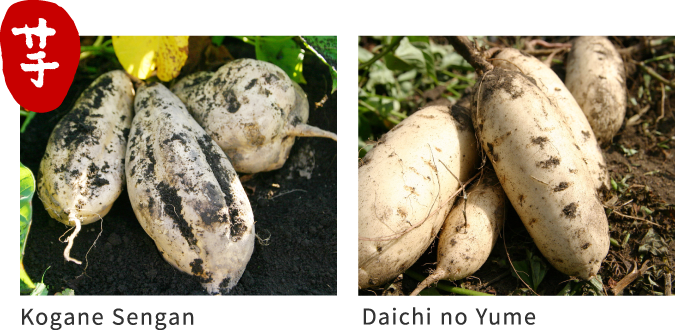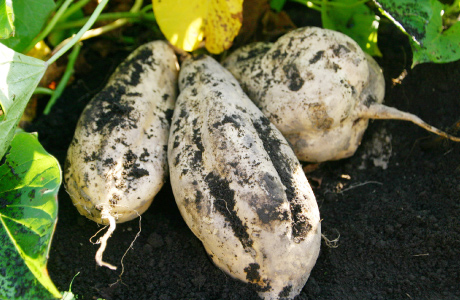 Kogane Sengan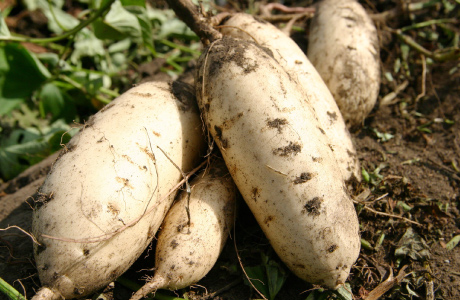 Daichi no Yume
We grow 2 varieties of sweet potato: Kogane Sengan and Daichi no Yume.
This distillery works with 2 varieties of home-grown sweet potatoes which are typically used for making shochu:
Kogane Sengan and Daichi no Yume.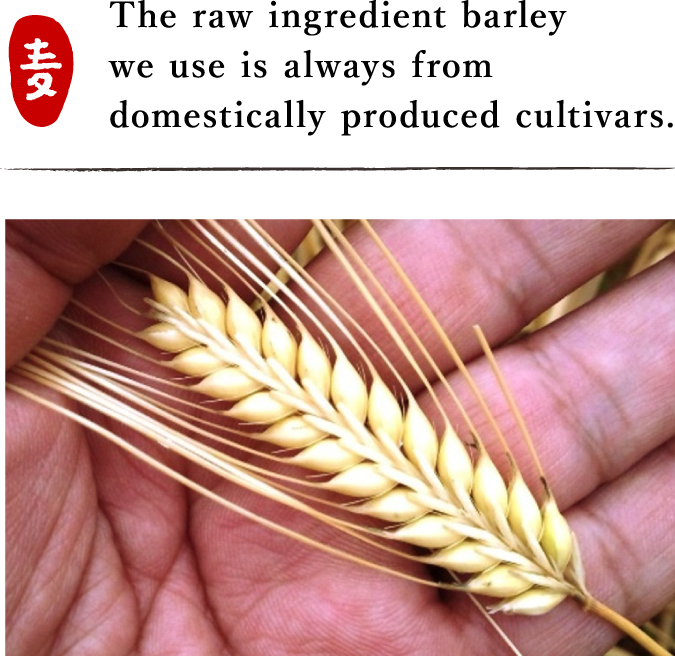 The raw ingredient barley we use is always
from domestically produced cultivars.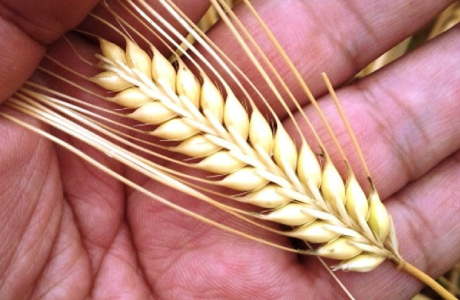 Mugi Mugi Asahi-Mannen is distilled with Nishi no Hoshi barley produced in Miyazaki Prefecture.
The two-rowed barley Nishi no Hoshi was developed as a shochu barley so it is a cultivar which is highly adapted to the production of barley shochu with excellent quality polished barley. It is produced in all the prefectures of Kyushu and this distillery uses Nishi no Hoshi produced in Miyazaki Prefecture as the raw ingredient for Mugi Mugi Asahi-Mannen.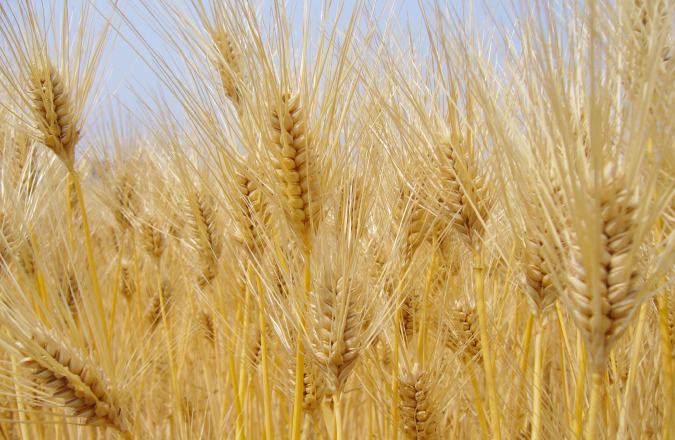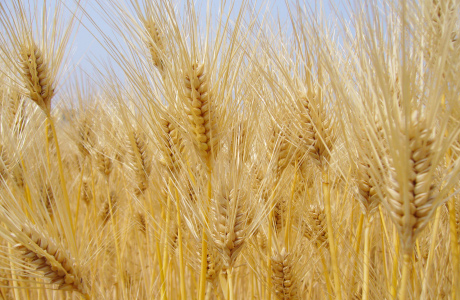 Mannenboshi, distilled by the third generation of the family to fulfil the dream of the first president. The raw ingredient is Mannenboshi naked barley produced in Ehime Prefecture.
The first president of the company, Sugaichi Watanabe, had the dream of one day distilling with raw ingredients from his hometown in Ehime. A new variety of naked barley called Mannenboshi was created in Ehime Prefecture in 2004. We ordered it straight away and realised that it was possible to make a shochu satisfactorily rich in both fragrance and flavor when we did a trial distillation. It was commercialized to fulfil the dream of the company's founder.